Sarah [second from right] says she arrived at college during "the summer of Covid." In August 2020 campus was not an enjoyable place to be. Most classes were online. Wearing masks during 100-degree days in San Antonio made meeting other new students difficult. Something made Sarah consider getting back into her faith. She prayed for Christian friends. Out of nowhere, someone from Cru at UT San Antonio reached out to Sarah on Instagram. Sarah filled out a quick online spiritual interest questionnaire. Within the week, Sarah began to meet with a Cru staff member and grew confident in her faith.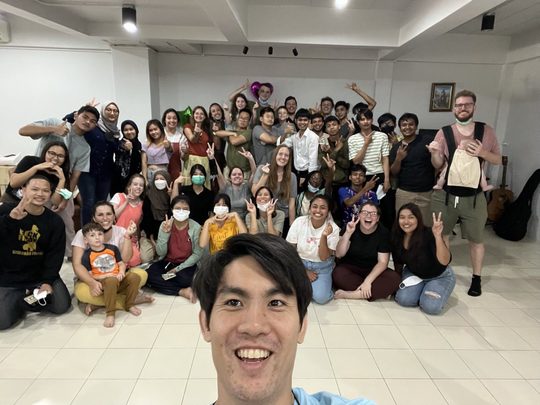 This summer, Sarah joined a team of students and Cru staff for a 6-week mission trip to university students in Thailand, where her team built relationships with and shared the gospel with hundreds of Thai students. Most had never heard anything about the gospel before. The night of this picture, she shared the gospel with a young teacher named, Eve.
When Sarah arrived on campus in 2020, nothing like Cru existed for her to grow in her faith. Over the last few weeks, Sarah and her friends have connected with hundreds of incoming students and have been able to share the gospel with many of them. God is using her changed life to change her campus.